Sightseeing
Dubbed the "Pearl of the Orient", Hong Kong is a uniquely colourful, chaotic and glamorous place to visit. With the stunning Victoria Harbour and the well-loved Star Ferry and Peak Tram among the many attractions the city has to offer, you'd no doubt find plenty of engaging things during your visit.
Hiking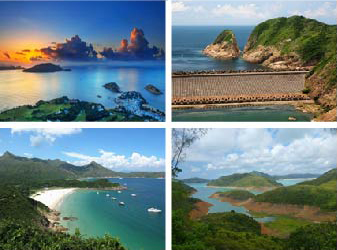 While famous for its urban landscape, outside the city, Hong Kong offers some of the most picturesque hiking trails in the region. Among them is Dragon's Back (龍脊). One of the most popular trails, it was voted in 2004 by Time magazine as the best urban hiking route in Asia. Experience the spectacular views of Hong Kong Island as you make your way through a tortuous path along a ridge. At the end of the trail is Big Wave Bay Beach, where you can end the day with a relaxing dip or experience local fast food at one of the few 'stores' in the adjacent village. Best of all it is within walking distance from the nearest MTR station.
For the more adventurous, visit the 100km long MacLehose Trail. Described as one of the world's 20 dream trails by National Geographic, the trail goes through much of New Territories. Beginning in Pak Tam Chung, it follows the breath-taking coastline of eastern Sai Kung, where you navigate past rock columns, sea stacks and sea caves before heading up to many of Hong Kong's highest peaks, from where you can witness the city moving from afar, before descending to the tranquil Shing Mun Reservoir – home to many species of migratory birds and butterflies. As you continue west, you'll pass many more valleys and reservoirs such as the scenic Tai Lam Reservoir before concluding in Tuen Mun.
Hiking tours can be organised for participants subject to demand.
For more information, please visit the Leisure and Cultural Services Department website which features all 42 hiking routes of Hong Kong or The Hong Kong Less Traveled website.
Country and Marine Parks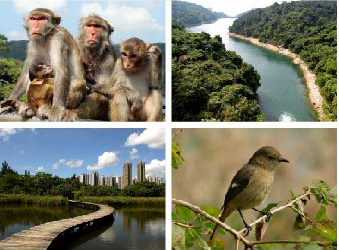 You can also experience the natural side of Hong Kong by visiting its country and marine parks. There are in total 24 country parks designated for the purposes of nature conservation, countryside recreation and outdoor education and 22 special areas created mainly for the purpose of nature conservation.
Kam Shan Country Park (金山郊野公園) is one of the first Hong Kong country parks and is the closest to urban districts in Kowloon. Set mainly in a reservoir catchment area, it extends to Smugglers' Ridge in the north and is famous for its macaques.
The 61-hectare Hong Kong Wetland Park in Tin Shui Wai, New Territories lets visitors catch a glimpse of the diversity of Hong Kong's wetland ecosystem. Here you can learn the functions and values of wetlands as well as its importance to surrounding wildlife.
Listed in 2011 by UNESCO as part of its Global Geoparks Network, the Hong Kong UNESCO Global Geopark comprises of two sections: Sai Kung, where it is home to hexagonal rock columns of international geological significance, and north-eastern New Territories, where there are sedimentary rocks that showcase the full geological history of Hong Kong. Visitors can visit the geopark either by boat or kayak or by hiking.
For more information, you can visit the website of Agriculture, Fisheries and Conversation Department or the website of Hong Kong UNESCO Global Geopark.
Nightlife
Nestled right behind the hustle and bustle of Central, Lan Kwai Fong is the go-to spot for those looking to have a little bit of fun after work. Home to over 90 restaurants and bars, as well as Hong Kong's biggest clubs, you can easily find anything from bougie wines to gelatin shots to suit any occasion. Though expect it to get a bit busy on Friday or Saturday nights so be prepared to queue.
For a different atmosphere, try Lockhart Road in Wan Chai or Knutsford Terrace in Tsim Sha Tsui, both popular destinations to unwind after a long week.

For specific recommendations, you can visit the Hong Kong Tourism Board's website on nightlife.
Food
As one of Asia's largest and most culturally diverse cities, you can find some of the most authentic dishes from around the world with ease here in Hong Kong. With more restaurants per capita than most cities, Hong Kong's food scene is vibrant and thriving. From local specialties like dim sum – a range of snack sized dishes commonly served in bamboo containers, to fresh sashimi flown to your table directly from Japan, every trip to a restaurant will leave you asking for more.
Selection of food items popular with locals include:
Egg tarts, a tart with flaky crust and a smooth eggy filling inspired decades ago by English custard tarts. They can be found in many local bakeries or Hong Kong–style cafes known locally as cha chaan teng. Notable places to try one of them include Honolulu Coffee Shop in Wan Chai, or any of Tai Cheong Bakery's 17 branches.
Siu mei, a blanket term for meats roasted with flavourful sauce in a wood fired rotisserie oven, is wildly popular among Hong Kongers. It includes barbecued pork, roasted goose, roasted duck, marinated steam chicken, chicken cooked in soy sauce, roasted pork, and marinated cuttlefish. Usually served with plain rice and boiled vegetables, it can be found anytime of the day. Notable restaurants include Ki's Roasted Goose Restaurant in Tin Hau, or Yung Kee Restaurant in Central.
Ha gow, a traditional Cantonese steamed shrimp dumpling notorious for being the true test of skill for a dim sum chef. Shrimp and pork are wrapped together inside a smooth translucent skin that must be thin enough to not affect the texture, yet sturdy enough to not tear when picked up with chopsticks. Cheong fun, a steamed rice roll made with a mixture of rice flour, glutinous rice flour and water. Commonly served with sweet sauce and/or peanut sauce in snack stalls or with filling such in beef or barbequed pork in dim sum restaurants. Both classified as a dim sum, they can be found in most large Chinese restaurants (酒樓) during lunch, or in dim sum specialists throughout the day. Notable restaurants include One Dim Sum in Prince Edward or one of Maxim's Palaces 6 branches.
Claypot rice, a traditional rice dish that is slow-cooked over a charcoal stove to give it a distinct smoky flavour. Usually topped with meat and/or vegetables, popular toppings include chicken, mushroom, Chinese sausage, minced beef, egg, spare ribs and marinated chicken feet. Some restaurants intentionally 'burn' the bottom of the pot to create a crispy layer of rice for that extra bit of texture. On the table it is often served with dark soy sauce, to give it a little bit of sweetness that helps balance the smoky flavour. Notable restaurants include Chuen Moon Kee Restaurant in Mong Kok.
For more restaurant recommendations, you can refer to the Hong Kong Tourism Board website, or the Michelin Guide Hong Kong and Macau. The latest restaurant reviews can be found on OpenRice or directly via the Google Maps app.